Spianata
Available from the Charcuterie Suzanne Delicatessen counter at Arkadia Foodstore Gozo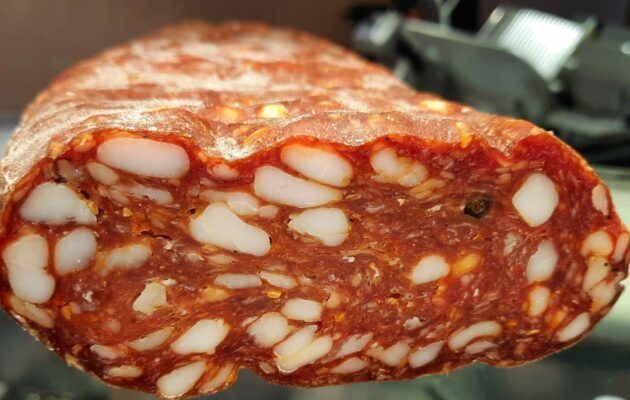 Spianata belongs to a broad family of traditional Roman charcuterie from Calabria, with Spianata being one of the earliest types of salami produced. The famous Italian cured meat is made from lean pork thigh meat mixed with cubes of lard. Its taste is more on the spicy side as it can be produced into either of two variations: the sweet Spianata with black peppercorns or the spicy Spianata with red pepper.
Recipe: Spianata Pizza
Time: 10 mins
Ingredients:
275g pizza dough
Pizza or tomato sauce
Slices of Spianata (sweet or spicy)
60g buffalo mozzarella, thinly sliced
Italian herbs
Fresh basil leaves
Garlic, finely minced
Truffle oil
Method:
1. Preheat the oven at the highest temperature.
2. Shape the pizza dough into a round and thin base using your hands.
3. Spread the pizza or tomato sauce onto the pizza. Season with Italian herbs and minced garlic.
4. Add the mozzarella and Spianata slices and bake for 5-10 minutes.
5. Garnish with basil leaves and drizzle some truffle oil on the pizza before serving.
Stay up to date with our counter products and recipe ideas - https://arkadiafoodstore.com/counterproducts/
Tell your Facebook friends about it.
Go back