Strawberries
Available from Charles Attard's Fruit & Vegetable counter at Arkadia Foodstore Gozo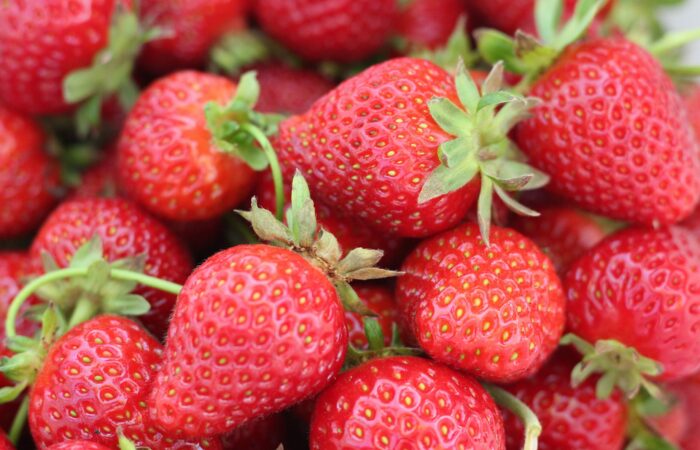 Interestingly, the flowering plant that produces strawberries forms part of the rose (Rosaceae) family, and it is grown in different varieties all around the world. Strawberries are a rich source of vitamin C and can either be eaten raw (washed) or incorporated in various kinds of recipes.
Recipe: Strawberry Cheesecake
Time: 1 hr 30 mins + chilling overnight
Servings: 12-14
Ingredients:
250g digestive biscuits
100g butter, melted
1 tsp vanilla extract
600g full-fat soft cheese
100g icing sugar
284ml double cream
For the topping;
400g strawberries, halved
25g icing sugar
Method:
1. To prepare the base, grease a 23cm tin with butter and line with baking paper.
2. Place the digestive biscuits inside a plastic food bag and crush using a rolling pin.
3. Transfer the crumbs to a bowl and pour over the melted butter. Mix until well combined.
4. Tip the crumbs mixture into the prepared tin and spread out to create an even base layer. Chill in the fridge for 1 hour.
5. Pour the double cream into a bowl and whisk with an electric mixer until it just starts to thicken.
6. Place the soft cheese, icing sugar and vanilla extract in a separate bowl and beat for 2 minutes until smooth and it starts to thicken.
7. Tip in the double cream mixture and fold into the soft cheese mix.
8. Spoon the creamy mixture onto the biscuit base and smoothen out. Let it set in the fridge overnight.
9. Bring the cheesecake to room temperature for 30 minutes before decorating.
10. Purée half the strawberries with the icing sugar and 1 tablespoon of water in a blender and sieve. Place the remaining strawberries on the cheesecake and drizzle the purée over the top.
Stay up to date with our counter products and recipe ideas - https://arkadiafoodstore.com/2023/08/04/counters-gozo/
Tell your Facebook friends about it.
Go back