Nectarines
Available from Charles Attard's Fruit & Vegetable counter at Arkadia Foodstore Gozo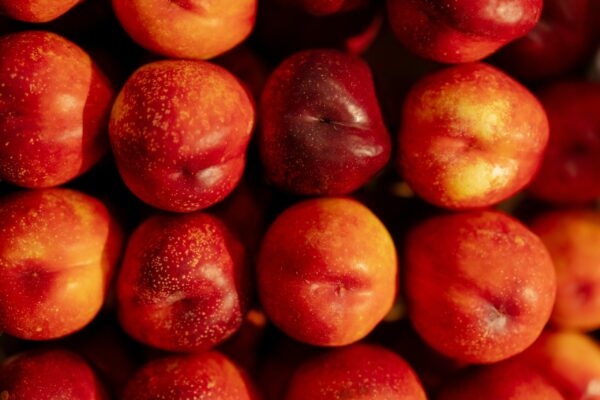 Nectarines are the smoother versions of peaches, a type of seasonal stone fruit that grows on trees in warmer climates. Their firm skin makes them ideal for chopping up as a snack or into salads, or even for grilling. Nectarines can also be eaten raw, as long as they have been washed, apart from their pit which should be discarded.
Recipe: Nectarine Salad
Time: 15 mins
Servings: 4
Ingredients:
¼ cup red onion, sliced
3 semi-firm nectarines, sliced
1 cucumber, sliced
1/8 cup basil leaves, torn
½ cup crumbled goat cheese
Toasted nuts of your choice, for topping (optional)
For the dressing:
3 tbsp olive oil
2 tbsp apple cider
2 tsp honey
Salt and pepper
Method:
1. Place the sliced onion in a bowl of water. Add ½ a teaspoon of salt and soak for 10-15 minutes.
2. Whisk the dressing ingredients together in a separate bowl.
3. Add the nectarine and cucumber slices to a shallow bowl. Rinse and drain the onions and add to the bowl.
4. Top with the basil leaves and crumbled goat cheese.
5. Drizzle with dressing and serve.
Stay up to date with our counter products and recipe ideas - https://arkadiafoodstore.com/2023/08/04/counters-gozo/
Tell your Facebook friends about it.
Go back