Fresh Whole Pork Leg
Available from the PRIME Butcher Counter at Arkadia Foodstore Gozo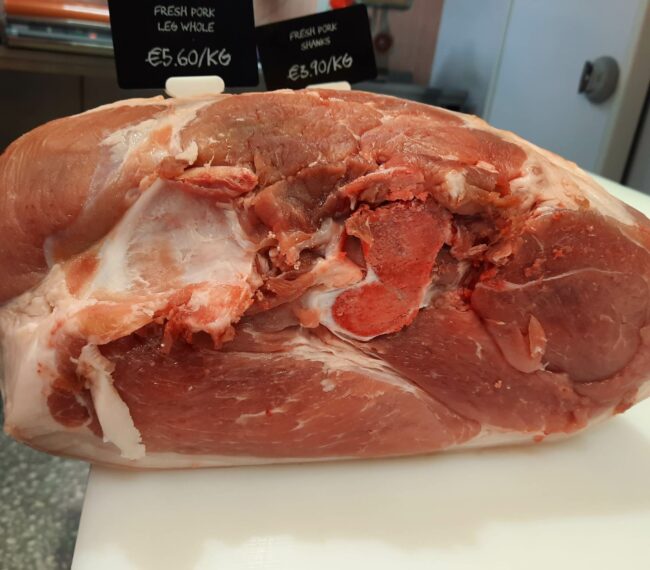 A fresh whole pork leg is a prime choice for a large roast gathering. The bottom part of the leg is referred to as the shank roast whilst the upper part is called the top leg roast. The pork leg can be roasted whole, but it can also be cut into smaller boneless joints or thinly sliced into escalope steaks.
Recipe: Roasted Pork Leg (South American Style)
Time: 8 hours 30 mins + 2 days marinating
Servings: 10
Ingredients:
9kg pork leg, with bone
Juice of 3 limes
20 garlic cloves, crushed
1 ½ tbsp ground cumin
1 ½ tbsp salt
½ tbsp ground pepper
4 cups beer + more for baking
1-2 sticks of butter
1 tbsp paprika powder
Method:
1. Place the clean pork leg in a roasting dish and rub with the lime juice.
2. To prepare the marinade, combine the crushed garlic, ground cumin, salt, and pepper in a bowl.
3. Make several deep incisions in the pork leg and stuff with the marinade.
4. Pour the beer over the pork leg and let it marinade in the refrigerator for 48 hours.
5. When ready to cook, preheat the oven to 200 degrees Celsius.
6. Melt the butter in a saucepan on low heat and stir in the tablespoon of paprika. Mix well.
7. Brush the buttery mixture onto the pork leg, leaving some to baste the meat with while baking.
8. Bake the pork leg, uncovered, for 30 minutes. Then, lower the temperature to 160 degrees Celsius and continue baking for 3 hours
9. Brush or baste the pork with some warm beer and the butter mix and continue baking for 4 hours.
10. Serve with your preferred choice of side dish.
Stay up to date with our counter products and recipe ideas - https://arkadiafoodstore.com/2023/08/04/counters-gozo/
Tell your Facebook friends about it.
Go back