Red Chillies
Available from Charles Attard's Fruit & Vegetable counter at Arkadia Foodstore Gozo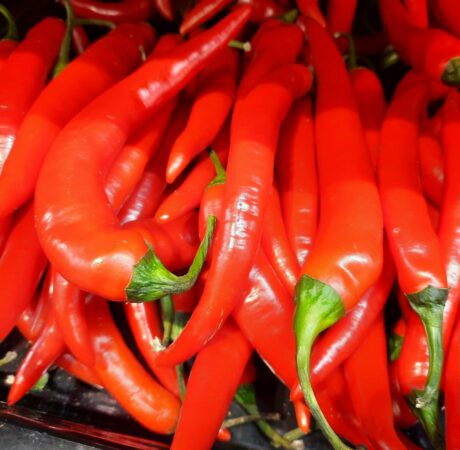 Red chillies are hollow inside, with the piths and seeds being their hottest parts for those who dare to bite. Contrary to what some may believe, red chillies may be milder in taste than green chillies, although there are many different varieties. The capsaicin found in chilli peppers is what makes one's skin and eyes burn. However, this component also has its benefits as some studies have found that this component may increase metabolism and it is also a key ingredient in many pain-relief medication. If you are not used to consuming spicy food, it is suggested you take it slow and try small portions at first.
How about starting off with this very easy crowd favourite, sweet chilli sauce.
Recipe: Homemade Sweet Chilli Sauce
Time: 15 mins
Servings: 6
Ingredients:
1 red chilli, finely chopped
25ml water
Salt
85ml white wine vinegar
175g caster sugar
12ml fish sauce
½ garlic clove, finely chopped
1 tsp fresh ginger, finely chopped
1 pinch of cornflour
Method:
1. Mix the water and cornflour together to dilute the cornflour.
2. Add all the remaining ingredients into a saucepan and bring to a boil.
3. Whisk in the water and cornflour and boil for another 1-2 minutes. Remove from heat and let cool.
Stay up to date with our counter products and recipe ideas - https://arkadiafoodstore.com/2023/08/04/counters-gozo/
Tell your Facebook friends about it.
Go back