Bruschetta Mix
Available from the Charcuterie Suzanne Delicatessen counter at Arkadia Foodstore Gozo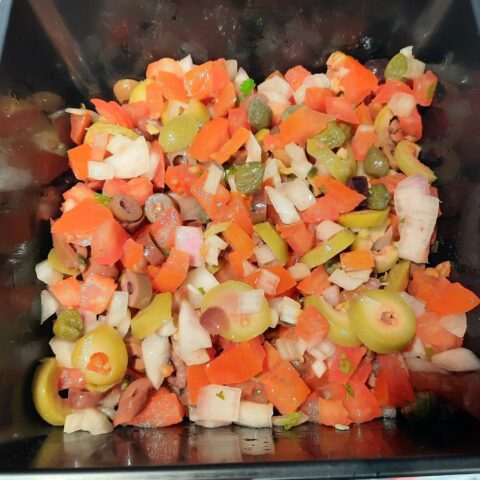 Bruschetta is an Italian delicacy, often served as an appetizer over slices of toasted or grilled bread. In fact, the name comes from the Italian word 'bruscare', meaning to roast over coals. The grill marks on the bread are often part of their presentation.
To make a good bruschetta:
Be careful not to overload the mixture with moist ingredients, like tomatoes, to prevent the bread from getting soggy.
Brush the bread with olive oil before grilling for that golden crisp.
Rub the warm, toasted bread with a clove of garlic before topping with the bruschetta mix.
Bruschetta is very versatile, and it can be incorporated into various dishes, apart from being savoured as an appetizer.
Recipe: Bruschetta Chicken
Time: 30 mins
Servings: 4
Ingredients:
2 large boneless chicken breasts, skinned and halved
1 ½ tbsp olive oil
1 ½ garlic cloves, minced
1 ½ tbsp Italian seasoning
Salt and black pepper
Tomato-based bruschetta
Basil leaves, for topping
Balsamic glaze, for topping
Grated parmesan cheese, for topping
Method:
1. Marinate the chicken with the olive oil, garlic, Italian seasoning, salt, and pepper in a large bowl. Allow the chicken to marinate for 10 minutes and set aside.
2. Heat a large skillet on medium-high heat with some olive oil. Cook the chicken for 3-4 minutes on each side, or until fully cooked.
3. Serve topped with the bruschetta, a drizzle of balsamic vinegar, the grated parmesan cheese and basil leaves.
Stay up to date with our counter products and recipe ideas - https://arkadiafoodstore.com/2023/08/04/counters-gozo/
Tell your Facebook friends about it.
Go back