Apricots
Available from Charles Attard's Fruit & Vegetable counter at Arkadia Foodstore Gozo.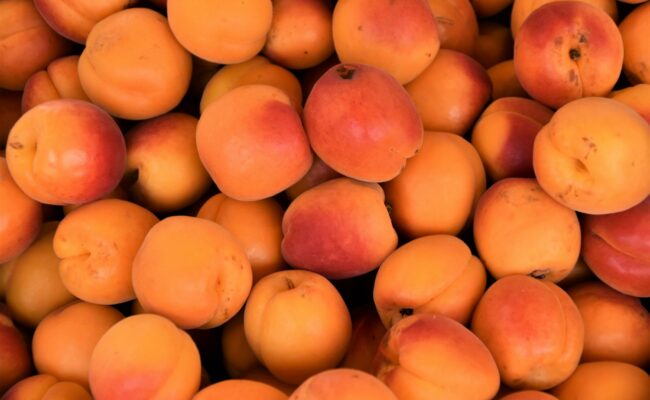 Apricots are relatives of the peach, nectarine, plum and cherry. They are characterised by soft, velvety skin, ranging from pale yellow to deep orange in colour. Apricots are widely used in the production of jams and to flavour liqueurs. When dried, they are an excellent source of iron.
Recipe: Apricot Pecan Quick Bread
Time: 1 hour 5 mins
Makes: 1-2 loaves
Ingredients:
2 ¼ cups diced apricots
1 tbsp lemon juice
½ cup butter, softened
½ cup white sugar
½ cup brown sugar
2 eggs
1 tsp vanilla
2 ½ cups flour
2 tsp baking powder
½ tsp salt
¼ tsp nutmeg
¼ tsp ginger
½ cup milk
½ cup chopped pecans
¼ cup rolled oats, for topping
Method:
1. Preheat the oven to 175 degrees Celsius and generously grease the loaf tins.
2. In a small bowl, toss the diced apricots with lemon juice.
3. Using an electric mixer, mix together the butter, white sugar and brown sugar until creamy. Beat in the egg and vanilla and stir in the apricots.
4. In a medium bowl, whisk together the flour, baking powder, salt, nutmeg, and ginger.
5. Add the flour mixture to the creamed mixture, alternately with the milk, starting and ending with the flour. Fold in the chopped pecans.
6. Divide the batter between the loaf tins. If desired, sprinkle rolled oats over the batter and bake for 50 minutes. If the second loaf is much smaller, bake it for half the time.
7. Let it cool for 10-15 minutes in the pan before taking it out to cool completely.
Stay up to date with our counter products and recipe ideas - https://arkadiafoodstore.com/2023/08/04/counters-gozo/
Tell your Facebook friends about it.
Go back