Collar Bacon
Available from the PRIME Butcher Counter at Arkadia Foodstore Gozo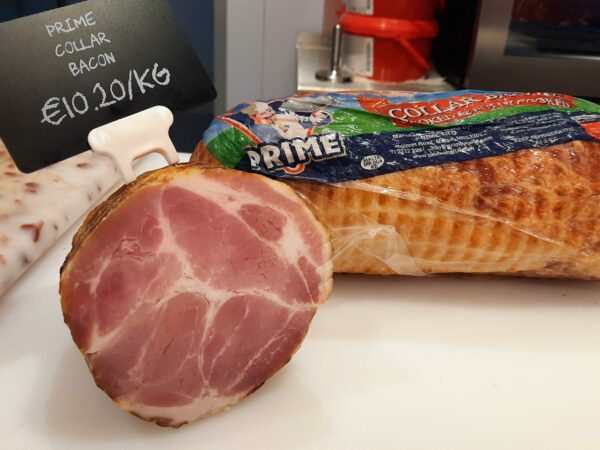 Collar bacon meat is cut from the pork's central shoulder muscle, the same as a pork ribeye steak. The streaks of fat which run through the bacon are there to add flavour and keep it moist during cooking. The trick is to take your time cooking collar bacon meat to get the most of its flavour and tender texture.
Recipe: Stuffed Collar Bacon with Rosemary and Garlic Butter
Time: 2 hrs 35 mins
Servings: 6
Ingredients:
1 ½ kg smoked collar bacon joint (soak overnight if needed)
1 small pack rosemary leaves, chopped
1 onion
20 cloves
4 bay leaves
1 carrot, halved
2 celery sticks, halved
1 garlic bulb, halved
1 tbsp black peppercorns
For the sauce:
Butter
25g plain flour
300ml bacon stock (use the cooking liquid from the collar bacon)
6 tbsp chopped parsley
Method:
1. Open the bacon collar and season with rosemary. Do not cut through completely, just make some incisions in the joint and rub with the seasoning. Then, fold the bacon back on itself and tie securely with string.
2. Place the joint in a large saucepan and cover with cold water. Bring to a boil and skim off any foam that rises to the surface. Discard the water and cover the joint with fresh cold water.
3. Stud the onion with the cloves, then add to the pan along with the bay leaves, carrot, celery, garlic, and peppercorns.
4. Bring the pan back to a boil, then reduce to a simmer and cook for 1 ½ - 2 hours. Let it cool and rest it in the stock for a minimum of 30 minutes. Set the stock aside.
5. To make the sauce, strain the bacon stock into a jug. Melt half the butter in a small pan and whisk in the flour to form a paste. Cook for 2 minutes, then gradually add the bacon stock, whisking continuously. Let it bubble for another 4-5 minutes before turning off the heat. Whisk in the remaining butter and stir in the parsley.
6. Remove the bacon collar from the pan and serve, thickly sliced with the parsley butter sauce.
Stay up to date with our counter products and recipe ideas - https://arkadiafoodstore.com/counterproducts/
Tell your Facebook friends about it.
Go back