Potatoes
Available from Charles Attard's Fruit & Vegetable counter at Arkadia Foodstore Gozo.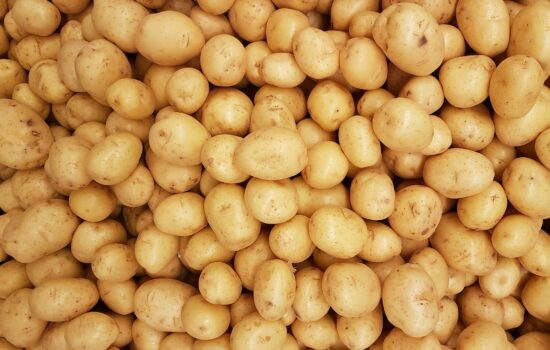 The potato is a humble vegetable full of nutrients you need to get through the day. Potatoes grow underground and there are various kinds of potatoes to incorporate in countless different recipes. They can either be cooked with the skin on or skin off. Always store your potatoes in a cool, dark place.
Fun fact: Did you know potatoes are used to make vodka?
Recipe: Baked Potato Risotto
Time: 55 mins
Servings: 4
Ingredients:
2 tbsp olive oil
45g yellow onions, diced
600g yellow potatoes, diced
Salt and black pepper
120ml dry white wine
1 tbsp potato starch
750ml chicken stock
60ml heavy cream
60ml sour cream + extra for garnish
A handful of chives, chopped + extra for garnish
85g cheddar cheese, shredded + extra for garnish
115g bacon, chopped and cooked
Method:
1. Place the diced potatoes in cold water.
2. Heat the olive oil in a pan over medium heat.
3. Add the onions to the pan and cook for 2-3 minutes, stirring constantly.
4. Add the potatoes and continue cooking for 1-2 minutes. Keep on stirring. Reduce heat to low if the onions and potatoes start to darken.
5. Season the potatoes with salt and pepper and stir.
6. Add the white wine and cook for 4-5 minutes while stirring, until the wine has almost evaporated.
7. Whisk the potato starch into the chicken stock.
8. Gradually add the stock to the potatoes, not all at once, and stir constantly. Wait until each pouring of chicken stock has evaporated before adding more and repeat until all the chicken stock has been used up. Cook until the potatoes are fully cooked without crumbling and the stock is creamy.
9. Add the heavy cream and continue cooking for 5-7 minutes. Remove from the heat and adjust the seasoning as desired.
10. Add the sour cream, chives, and cheddar cheese. Stir to combine until the cheese is melted.
11. Garnish the risotto with the bacon when serving. Top with more sour cream, cheese, and chives.
Stay up to date with our counter products and recipe ideas - https://arkadiafoodstore.com/counterproducts/
Tell your Facebook friends about it.
Go back