Mangoes
Available from Charles Attard's Fruit & Vegetable counter at Arkadia Foodstore Gozo.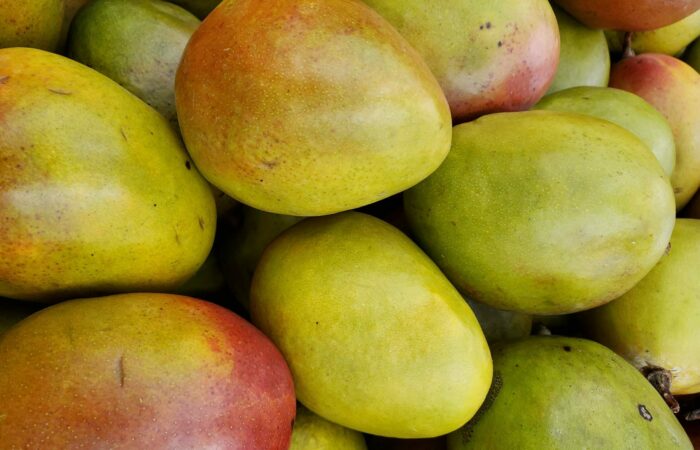 In certain places, the mango is called the 'King of Fruits'. Mangoes are stone fruits, because of the large seed they store in the middle, and they form part of the cashew family. They originated in India and Southeast Asia and have been harvested for over 4,000 years. Mangoes can be paired with a variety of both sweet and savoury dishes.
Recipe: Salmon with Mango Salsa
Time: 30 mins
Servings: 6
Ingredients:
For the salmon:
1 large salmon fillet (about 1 kg)
¼ cup butter, melted
2 tbsp honey
Juice of 1 fresh lemon
1 tsp paprika
1 tsp chili powder
1/8 tsp cayenne powder
½ tsp garlic powder
Salt and pepper
For the salsa:
2 mangoes, chopped
1 red bell pepper, chopped
1 tomato, chopped
2 tbsp cilantro, chopped
1 jalapeno, chopped
Salt and pepper
Lime juice, to taste
Method:
1. Preheat the oven to 175 degrees Celsius and line a baking sheet with aluminium foil. Place the salmon in the middle of the sheet.
2. Mix all the dry rub ingredients in a bowl.
3. In a separate bowl, stir the melted butter with the honey and lemon juice.
4. Coat the salmon with the dry rub, the pour over the butter mixture. Let it rest for 15 minutes before baking.
5. Bake the salmon for 15-20 minutes. Then, switch the oven to a broil and cook for 3-5 minutes to brown the top. Remove from the oven and let it rest for 5 minutes.
6. While the salmon is baking, chop the mango salsa ingredients and mix in a bowl.
7. Garnish the salmon with mango salsa and lemon wedges and serve.
Stay up to date with our counter products and recipe ideas - https://arkadiafoodstore.com/counterproducts/
Tell your Facebook friends about it.
Go back