Italian Dry-Aged Meat
Available from the PRIME Butcher Counter at Arkadia Foodstore Gozo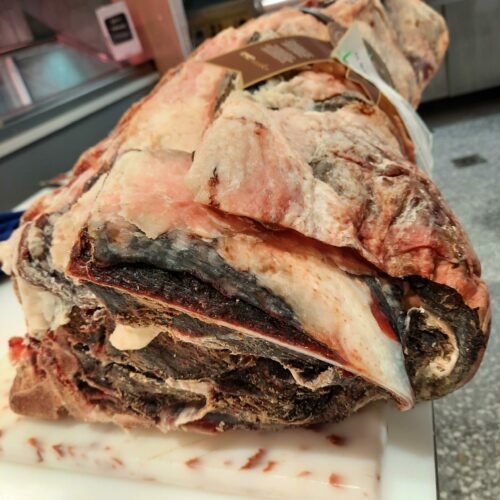 The meat aging process makes the meat more tender and gives it a richer flavour. This can take up to months or even years. The longer it is left to age, the more tender and flavourful the meat becomes. In the case of dry aging, the meat is refrigerated and stored unpackaged for it to achieve a dry surface. It is recommended to cook dry-aged meat on the same day it is bought because letting it sit might alter the dry aging process.
Recipe: Grilled Dry-Aged Steak
Time: 32 mins
Servings: 2
Ingredients:
2 dry-aged rib-eye steaks (about 350g each)
Salt and pepper
1 tbsp olive oil
Garlic butter sauce
For the Garlic Butter Sauce:
4 tbsp unsalted butter
2 garlic cloves, minced
1 tbsp lemon juice
1 sprig of fresh rosemary
1 tbsp chopped parsley
Salt and pepper
Fresh herbs for garnish
Method:
1. Bring the steaks to room temperature and pat them on each side using a paper towel to absorb excess moisture.
2. Season each side of the steaks generously with salt and pepper.
3. Preheat and prepare the grill.
4. Meanwhile, melt the butter in a saucepan over low heat and add the garlic, lemon juice, and rosemary. Cook for 1-2 minutes.
5. Remove the rosemary and stir in the parsley. Season lightly with salt and pepper.
6. Brush the steaks with olive oil on both sides and grill, covered, on high heat for 4-5 minutes.
7. Flip the steaks and cook for another 3-4 minutes.
8. Reduce heat to low and brush the steaks with the garlic butter sauce. Continue grilling, uncovered, until the steaks are cooked to your liking.
9. Let the steaks rest for 7-8 minutes before garnishing with sea salt and fresh herbs to serve.
Stay up to date with our counter products and recipe ideas - https://arkadiafoodstore.com/counterproducts/
Tell your Facebook friends about it.
Go back