Fresh Danish Beef Fillet
Available from the PRIME Butcher Counter at Arkadia Foodstore Gozo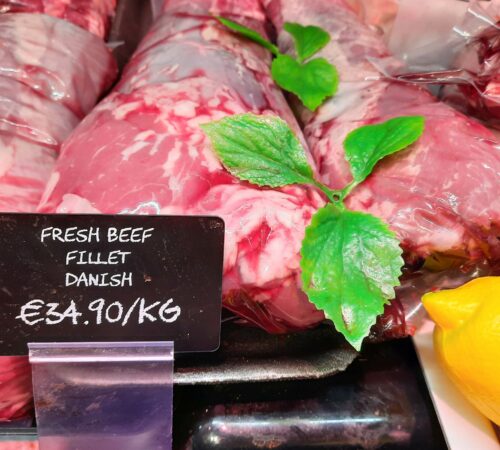 Danish meat is synonymous with high class, quality, and a great taste.
Recipe: Danish Steak with Mushrooms and Cream
Servings: 4
Ingredients:
590g Danish beef fillet steaks, thinly sliced
Garlic powder
Salt and pepper
Butter
225g bacon
1/3 cup heavy cream
225g button mushrooms
½ onion
2 garlic cloves
½ cup beef broth
1 tbsp Worcestershire sauce
1 tbsp fresh thyme leaves, chopped
Olive oil
Method:
1. Season the steaks with garlic powder, salt, and pepper.
2. Fry in plenty of butter on a hot pan for about 30 seconds on each side and set aside in a warm dish.
3. Cook the bacon until crisp, drain on a paper towel and chop.
4. Sauté the mushrooms, onions and garlic cloves in some butter and a tablespoon of olive oil. Cook until the onions are softened, and the mushrooms start to brown.
5. Add the beef broth, Worcestershire sauce, thyme leaves and heavy cream. Season with salt and pepper and bring to a simmer.
6. Place the steaks back into the sauce and reduce heat until they are cooked through.
Stay up to date with our counter products and recipe ideas - https://arkadiafoodstore.com/counterproducts/
Tell your Facebook friends about it.
Go back