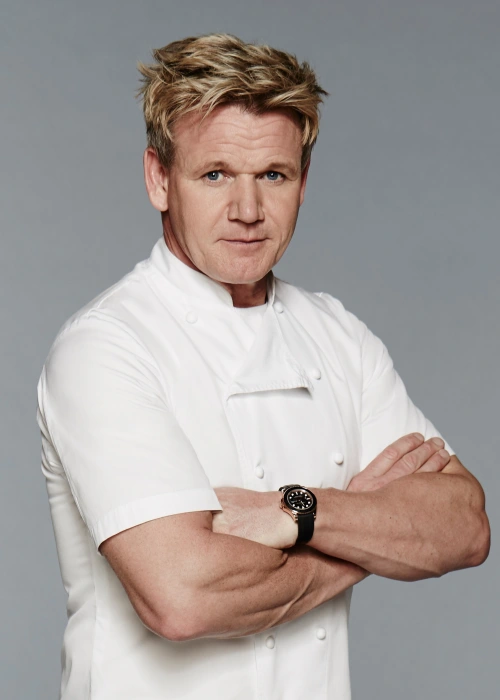 Famous Chefs' Dishes
Gordon Ramsay
The British celebrity chef, Gordon Ramsay, was brought up in Stratford-upon-Avon, England, but his dream career was not always that of becoming a chef. When he was younger, Ramsay aspired to become a professional footballer, but an injury led him to seek alternative career paths as his chances of becoming a successful professional footballer were looking very slim. Gordon Ramsay decided to go back to college to study hotel management and his promising talent provided him with the opportunity to train with world-renowned chefs, including Albert Roux and Guy Savoy. In 1993, Ramsay kickstarted his culinary career as Head Chef of Aubergine in London and from the onwards, it was a successful road paved with Michelin stars and international fame. Ramsay now holds seven Michelin stars amongst fifty-eight restaurants that he owns worldwide including Singapore, Las Vegas, London, Dubai, China, and Versailles. If you haven't dined at one of his restaurants yet, you might have seen him on T.V., with four top-rated FOX shows that air worldwide including Hell's Kitchen, MasterChef, and Gordon Ramsay: Uncharted. Gordon Ramsay is also a published author, with his autobiography Roasting in Hell's Kitchen becoming an international bestseller. In 2006, Ramsay's contributions were recognised by Queen Elizabeth II who awarded him with an Order of the British Empire. Since then, Ramsay and his wife decided to increase their impact by setting up the Gordon and Tana Ramsay Foundation in 2014, which seeks to help charities that are meaningful to the couple.

The Famous Beef Wellington Recipe
Serves: 4
Ingredients:
2x 400g beef fillets
Olive oil, for frying
500g wild mushrooms, cleaned
Leaves from 1 thyme sprig
500g puff pastry
8 slices Parma ham
2 egg yolks, beaten with 1 tbsp water and a pinch of salt
Sea salt
Ground black pepper
For the red wine sauce:
2 tbsp olive oil
200g beef trimmings
4 large shallots, peeled and sliced
12 black peppercorns
1 bay leaf
1 thyme sprig
Splash of red wine vinegar
1x 750ml bottle of red wine
750ml beef stock
A wide variety of quality ingredients for our recipes are available from Arkadia supermarkets in Malta and Gozo, including Arkadia FoodExpress Swatar and Arkadia Food Market Valletta.
Method:
1. Wrap each of the beef fillets tightly in a triple layer of cling film to create the desired shape and chill overnight.
2. Remove the cling film and sear the beef fillets in some olive oil for 30-60 seconds. Remove the fillets from the pan and leave to cool.
3. Chop and fry the mushrooms in some olive oil, thyme leaves and seasoning. When the mushrooms' juice starts oozing out, continue cooking over high heat for another 10 minutes, until all excess moisture has evaporated, and you are left with a mushroom paste (known as duxelle). Remove from the pan and leave to cool.
4. Cut the pastry in half, place on a lightly floured surface and roll each piece into a large rectangle which will cover a beef fillet. Chill in a refrigerator.
5. Place 4 slices of Parma ham in the middle of a large sheet of cling film, overlapping them to create the shape of a square. Spread half the duxelles evenly over the ham.
6. Season the beef fillet and place on top of the mushrooms and ham. Using the cling film, roll the Parma ham over the beef and tie the cling film for a nice, thick log shape. Repeat steps 5 and 6 for each fillet and chill for a minimum of 30 minutes.
7. Brush the pastry with the egg wash. Remove the cling film from the beef and wrap the pastry around each ham-wrapped fillet. Trim the pastry and give it another brush of egg wash. Cover with cling film again and chill for a minimum of 30 minutes.
8. Meanwhile, start making the red wine sauce by heating the olive oil in a large pan and frying the beef trimmings for a few minutes until browned all over. Stir in the shallots, peppercorns, bay leaf and thyme and cook for 5 minutes, stirring frequently.
9. Pour in the vinegar and let it bubble for a few minutes until almost dry. Add the wine and boil until almost completely reduced. Add the stock and bring to a boil again. Lower the heat and simmer gently for an hour, removing any scum from the surface, until you obtain the desired consistency. Strain the liquid and set aside.
10. Before cooking the beef wellingtons, score the pastry lightly and brush with another layer of egg wash. Bake for 15-20 minutes at 200 degrees Celsius. Let it cool for 10 minutes and re-heat the sauce before serving.
Stay up-to-date with our Famous Chefs' Dishes - https://arkadiafoodstore.com/famouschefdishes-2/
Tell your Facebook friends about it.
Go back