Childhood Memories
Teatime Pink Lamingtons
Looking back on our childhood memories, teatime was the home work break we all looked forward to. With the adults' pots of tea came out the sweet treats, giving us children a swift opportunity to grab one too. At teatime, pink lamingtons, with their soft, sweet sponge dipped in a luscious pink glaze and coconut confetti, were always a delightful treat and definitely worth being good for!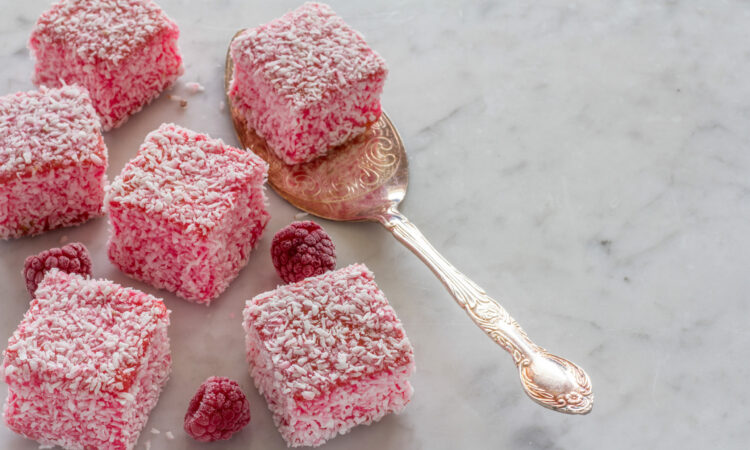 Time: 1 hour 50 mins
Makes: 24
Ingredients:
4 eggs
2/3 cup sugar
1 ½ tsp vanilla extract
1 cup self-raising flour
1 packet of strawberry or raspberry jelly crystals
1 cup boiling water
1 cup cold water
2 cups desiccated coconut
A wide variety of quality ingredients for our recipes are available from Arkadia supermarkets in Malta and Gozo, including Arkadia FoodExpress Swatar and Arkadia Food Market Valletta.
Method:
1. Crack the eggs into a mixing bowl and beat until fluffy.
2. Add the sugar in ¼ cup portions, beating after each portion.
3. Beat in the vanilla extract and fold in the flour.
4. Pour the mixture into a 20cm square cake tin and bake at 180 degrees Celsius for 18 minutes. Let it cool completely before cutting up into squares.
5. Meanwhile, add the jelly crystals to a large bowl. Add the boiling water and whisk until all crystals have dissolved.
6. Add one cup of cold water to the mixture and refrigerate for 1.5 hours.
7. Slightly whisk the jelly and dip the lamington squares into the jelly, coating completely.
8. Coat with coconut and refrigerate until serving.
Tell your Facebook friends about it.
Go back